Program Director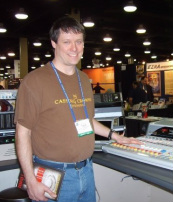 Travis at NRB
Travis Nunn is a Christian who came to know the Lord as a child. He has worked in secular radio since 1998 in a variety of positions. He started out as an unpaid radio disc jockey in a small town then moved his way up to being a disc jockey for the number one rated station in the market. Travis has experience in all areas of radio including but not limited to programming, training interns, loading programs, reporting of news, traffic, weather, sports, etc. After working in secular radio for all these years Travis realized that the corporate stations have lost their community involvement. He decided to start a Christian radio station that will serve the public and be community minded and local in nature.


---
General Manager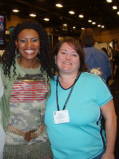 Nicole C Mullen & Jennifer
Jennifer Nunn is a Christian who has been very involved in women's ministries. She was Women's Ministry Director for several years and has a heart to help women develop a relationship with the Lord to be able to deal with the struggles they go through. She graduated from Georgia College and State University in 1996 with a degree in Accounting. She has worked in the home health care management industry and construction industry since graduating. She is involved with various community organizations such as the American Cancer Society's Relay for Life. Due to her knowledge of accounting and non-profit organizations she is a valuable asset to Believers in Broadcasting.


---